As this moment in time stretches on, we continue to work for you.
Our Fall Food Show, "Onward & Upward," is going to be digital, but we haven't forgotten about one of the coolest parts of a food show — giveaways!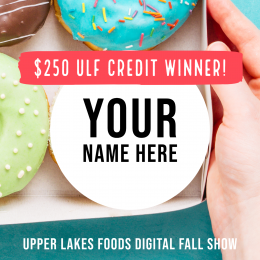 Work with your salesperson to place a food show order any time from
October 26 – 30, 2020
and you get a chance to win!
We're giving away $250 in ULF credit twice a day during the food show order period! Watch our Facebook page as we announce winners at 11:00AM and 4:00PM every day from October 26 – 30.