You can win at the Digital Spring Food Show!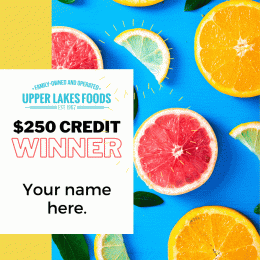 We're giving away $250 in ULF credit twice a day during the food show order period! Watch our Facebook page as we announce winners at 11:00AM and 4:00PM every day from May 3 – 7.
Work with your salesperson to place a food show order any time from
May 3 – 7, 2021
and you get a chance to win!
---
New customers can win BIG!
7th Heaven
The 7th order is FREE!
Here's how it works
For all new customers, your 7th food show booking is free* during the shipping period, 5/17/21 – 7/10/21!
Begins once ULF receives 6 consecutive orders over the $500 minimum
Based upon purchase dollars from ULF
*ULF will credit the average amount of the 1st 6 weeks purchases to the account on week 7, aka FREE!
EX: Week One: $578; Week Two: $725; Week Three: $510; Week Four: $678; Week Five: $621; Week Six: $598 = Average over 6 Weeks of $613.67
New customer is defined as one with no purchases from Upper Lakes Foods in the past 6 months.
CUSTOMER MUST REVIEW AND SIGN THE AGREEMENT FORM WITH THEIR SALES REP TO BE ELIGIBLE.