The National Restaurant Association ranked charcuterie boards as the #3 hot trend for 2023, and it's easy to see why! They allow for endless creativity; and best of all, they're easily customizable for your guests' tastes, party size, or what you have on hand.
A delicious charcuterie board is all about balance (and eye-catching presentation). Here are the general rules when building your perfect charcuterie board.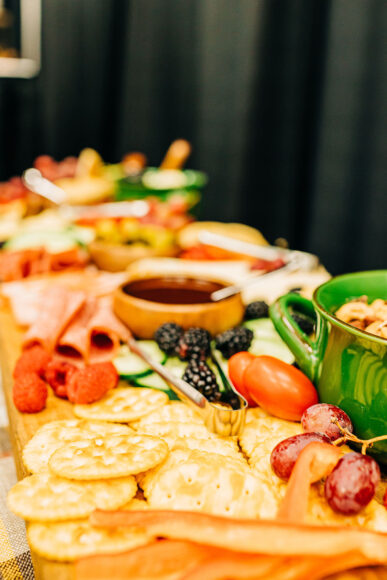 Cheeses: choose from various hard and soft cheeses, different ages of cheese, mild and strong flavors, and cheese made from different animals (cow, sheep, goat).
Cured meats: use any combination of tangy summer sausage, prosciutto, salami, cured chorizo, capicola, soppressata, etc.
Savory accompaniments: add depth with roasted nuts, mustard, olives, dill pickles, pepperoncini, and delicious dips like hummus or olive tapenade.
Sweet accompaniments: fill in the gaps with fresh and dried fruit, honey, dark chocolate, jams, or other sweet spreads.
Vehicles for flavor: include lots of crackers and sliced raw veggies for dipping and stacking.
Once you have chosen and prepared your ingredients, it's time for assembly.
Begin with dips and nuts. Use small bowls to anchor the arrangement on your board. Then, it's time to place the cheeses. Arrange them evenly and allow space for slicing and scooping. Next, add the meats. Instead of laying the slices of meat flat on the board, gently fold and fan them. It takes up less space and is more visually appealing. For sturdy meats like salami, fold a few slices into quarters, and fan them out. For longer meats like prosciutto, separate each piece and gently drape it into a fluffy, vertical pile.
Next, insert stacks of crackers among the meats and cheeses. Finish by filling in gaps in the board with fruit, nuts, and other chosen accompaniments. And voila, you've created an Instagram-worthy masterpiece!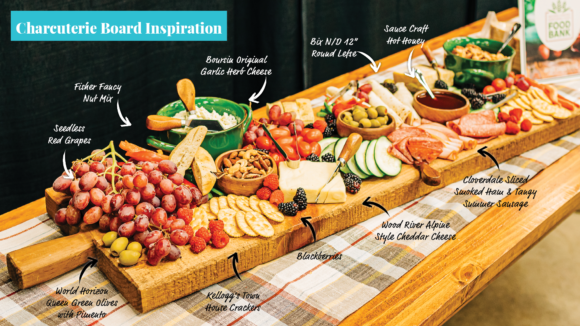 Red Seedless Grape
112607 – 1/18 lb.
Raspberry
111302 – 12/6 oz.
Cucumber
128208 – 1/50 lb.
N/D Fresh Fig
115040 – 15-18 ct.
Grape Tomato
121295 – 1/10 lb.
Green Bell Pepper
129701 – 25 lb.
Red Bell Pepper
129724 – 1/25 lb.
Blackberry
111112 – 12/6 oz.
Original Garlic Herb Cheese
208830 – 2/2.2 lb.
Alpine Style Cheddar Cheese
207937 4/2.5 lb. avg.
N/D 12" Round Lefse
271006 – 4/12 ct,
Tri-Color Grape Tomato
121269 – 1/10 lb.
Sliced Mozzarella Cheese Log
209410 8-1 lb.
Town House Crackers
404106 – 30/6.5 oz.
EZ-Pour Pure Clover Honey
353534 – 1/6 lb.
Queen Green Olives w/Pimento
287302 4/1 gal.
Fancy Nut Mix
431116 1/32 oz.
Mini Herb Schiacciata Bread
730103 – 60/4.2 oz.
Smoked Sliced Ham
549020 6/2 lb. .5 oz.
Tangy Summer Sausage
549149 – 6/2 lb. .5 oz.
Hot Honey Sauce
463422 1/.5 gal.