This fall, we'll feed your focus.
You're focused on your business, and we're focused on you. For over 50 years we have been committed to providing you with superior service, quality products, and fresh ideas.
Join us at the DECC on October 24th as we look ahead to the next 50 years of serving you.
"Feed Your Focus" Fall Food Show
Tuesday, Oct. 24, 2017  |  9 a.m. – 4 p.m.
DECC, Duluth
Register on the day of the show!
Focus on versatility with our culinary demonstrations.
Focus on quality with local and national suppliers.
Focus on growth with our seminars.
Focus on now with our newest products.
---

Focus on Flavor  |  9:15 – 10:15 a.m.
Gooseberry Room 3
Variety is the spice of life! People want flavor experiences that make food interesting and enjoyable. In this session, you will learn about healthy solutions for meeting your customers' needs whether low sodium, low calorie, or no added sugar.
Speakers: April Bechel, RD and Taylor Gawlik RD, LD, CD
Focus on Finance  |  10:30 – 11:30 a.m.
Gooseberry Room 2
What do banks look for in a loan request package? What do you do if they won't finance your restaurant? Discover the answers to these questions and so much more in this informative seminar.
Speakers: John Bradshaw – Senior V.P. Commercial Relationship Manager and Michael Lattery – Entrepreneur Fund
Focus on K-12 Procurement  |  11:45 a.m. – 12:45 p.m.
Gooseberry Room 1
In this seminar you'll learn about the K-12 procurement process, as well as how to successfully deal with issues and difficulties. Our speakers will also inform you of other options that exist in the marketplace that don't require line item bidding.
Speakers: Julie Powers – J.A. Powers Consulting LLC  and Tom Morgan – NJPA Contract Administrator
Focus on Five Star Reviews  |  1:00 – 2:00 p.m.
Gooseberry Room 3
Harvard Business School Professor Michael Luca found that a one-star increase in a Yelp rating leads to a 5% to 9% bump in revenue. We'll tell you how to manage your online reviews and give you strategies on increasing your rating.
Speakers: Jeff Flaherty – Operations Development Specialist and Mariah Berg – Digital Marketing Coordinator
---
Focus on: Excitement
$500 ULF Credit Giveaway  |  11:35 a.m.
$500 ULF Credit Giveaway  |  12:50 p.m.
$1,000 Cash Giveaway  |  3:45 p.m.
Your ticket will be given to you at registration. Have your ticket ready when the winning number is called out! Must be present to win. 
---
Focus on: Versatility
See our featured partners at the demo stage, watch their cooking demonstrations, and taste their dishes. We're focused on showing you just how versatile and creative you can be.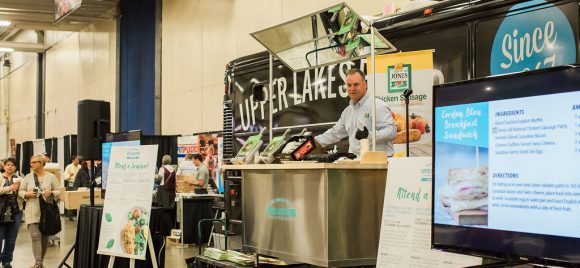 Schedule
Sharpen Your Knife Skills with Chef Ryan Trinkofsky
10:20 AM
Create the Perfect Pasta Entree with Chef Jesse Cobb
Seasonal Veggie Noodle Dishes with Brett Knutsen
3:00 PM