By Mary Lou Santovec from Wisconsin Restaurateur, Vol. 81 No. 4.
When Food Fight Restaurant Group's managing partner, Bill Horzuesky, was Executive Chef at Bluephies he had long wanted a set of 3-D photos of his desserts. Chris Hynes, a Madison-based food photographer and owner of Chris Hynes Photography worked with CC Jacob, Food Fight's graphic designer and art director, to carry-out his creative original concept.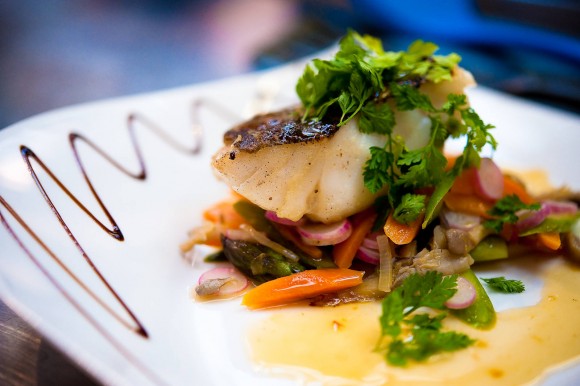 Hynes took two shots each of several of the desserts and their props–think cowboys and Indians, an underwater scuba diver and a volcano for starters. Then, collaborating with partner Mark Gillespie, she put them together in Photoshop to get the desired effect. Those photos, which were lit and styled very deliberately to imitate the retro View-Master slides of the 60's and 70's, were then printed to the specifications of a View Master. Diners at "kitschy and fun" restaurants are offered the entertaining stereoscopic toys featuring the dessert reel with hopes they will succumb to temptation.
Operators don't need to channel Martha Stewart or even go to Bluephies' extent to make their meals look marvelous in print or digital. A few tips and tricks from food stylists and food photographers can help you put the sizzle in steak, the sensuality in Schaum torte, the sparkle in the salad and make your customers long for more.
Reproducible results
Having a trained eye and an understanding of what food can do is key to making the end result believable. Food photos should look good enough to eat–but not so good they misrepresent your product.
In the late 1960's, the Campbell's Soup Company pushed the envelope way too far on believability. Campbell's added glass marbles to a bowl of vegetable soup during a photo shoot to make it seem as if the soup had more vegetables than it actually did. The Federal Trade Commission sanctioned the company for false advertising and the resulting firestorm redefined artistic license. Today, food styling and photography is very much "what you see is what you get"–with a few enhancements–or in the case of Bluephies, a few accessories.
Those enhancements can be compared to a makeup artist and a supermodel, said Stef Culbertson, a Madison-based food stylist and owner of Simply Food Styling. The model is the same person; she's just been enhanced with a variety of makeup and hair products to make her look her best. Culberson, a staff food stylist for Swiss Colony for years before opening her own business in 2009, starred in the Food Network's program, "Secret Life of a Food Stylist" which was shot at her former employer.
Food styling is quickly moving toward more sustainable and realistic renditions. No more brushing used motor oil or shellac on raw turkey like they did decades ago for those Thanksgiving shots that were impossible to recreate in the home kitchen–or anywhere else. Lighting is transitioning from studio lighting to natural light.
"Sustainable" styling requires using as much real food as possible. The food portrayed in the ad, on the menu or in any collateral materials such as websites is the client's actual food. "The Bluephies desserts were pre-made [by the restaurant]," said Hynes. Each scene was built around the props and the dessert.
An art and a science
Just how do they make the food look so good? Using the client's food "doesn't prevent you from going through 100 burgers to pick the perfect one," said Culbertson. Hynes only needed one slice of Bluephies chocolate pie, but had access to an entire pie at the shoot in case the edges dried out.
Food styling is as much an art as it is a science. "Food is so temperamental," she said. Decades ago, food stylists could use "black magic, wild sorcery and fake food," to get their shots. Today's process is much less mystical.
Asparagus can be blanched in hot water to make its color pop and then immediately put in ice water to stabilize it. A hand-held kitchen torch can be used to add browning to a steak.
For a photo of a bowl of cereal and milk, the stylist will have chosen some 20 of the most perfect pieces of cereal before spraying the cereal with Scotchguard to prevent it from sinking into the "milk," which is often white glue thinned with water. Substituting glue for milk is acceptable if the focus of the shot is on the cereal; it's false advertising if the vendor is actually selling milk.
Nancy Froncek of Professional Kitchen has 30 years of food styling and recipe development experience including work for Kraft Foods. Froncek brings all of the food to the photo shoots as well as props such as linens, herbs, edible flowers, plates and glassware. She grows much of what she uses on her 40-acre farm in Verona.
Froncek came by her food styling interest at an early age. "My dad was the manager of the graphic arts department at Oscar Meyer," she said. Growing up she visited the company's consumer kitchen and met the employees who did the food styling for the ads and recipe books.
Many food stylists have more than just a working knowledge of food preparation. Froncek also cooked in various restaurants across the country including Sardi's in New York and the Wisconsin Executive Residence.
At a photo shoot, she often creates a "stand-in" for the real food, which enables the photographer to spend time getting the lighting right. Once decisions are made, Froncek will go back and create the actual dish starting with fresh ingredients.
Like Culberson, Froncek will often pretty up a product, applying vegetable oil to a cooked steak to make it glisten or polish a black olive with vegetable oil to give it dimension. She'll strain mustard so it holds up on a hot dog.
One of her tool boxes contains various sizes of strainers, as well as linen gloves to handle chocolate, Exacto knives, dental and surgical tools and paint brushes to manipulate food. She also brings a full-size construction blow torch for finished burnt edges of meats so they look like they've been grilled.
Jennifer Janz strives to keep food "alive" on set for the photo shoot. Owner of the Mequon-based A Fabulous Food Stylist, she uses a variety of tricks  to keep the foods looking fresh such as "spritzing" fresh greens or salads with cold water or replacing the greens as they wilt under the lights. "I also have several heating tools that are specially for for food styling so that I can heat up food on set to melt cheese or butter if it's cold," said Janz who has taken photos for Kil-A-Wat Restaurant in Milwaukee's Intercontinental Hotel.
Getting food to look fresh and warm can be accomplished visually many ways; for example adding a brush stroke of oil makes a hamburger look juicy. Sometimes it's just having a drip of sauce (placed with an eye dropper at the last minute) that entices the viewer into the photo.
Fake out
Using fake food in a photo shoot can be tricky. "If you are working on a food photo shoot, it is illegal to use fake food (or someone else's product other than the company's) as the final image that is used in selling or advertising that food," said Hynes. "If, however, you are photographing a set of serving bowls and you put fake fruit in it, that is perfectly legal because the client isn't selling the fruit – they are selling the bowls."
For Tom Linscott, owner of Gilles Frozen Custard in Milwaukee, fake ice cream turned out to be the solution to what was becoming a costly problem. Linscott hired a model maker to create some 15 long-lasting frozen treats that he could display on the counter to entice customers. These replaced the actual products that needed to be made up, kept frozen and replaced frequently.
In working with the model maker, Linscott sent photos of the real products and the dishes they were served in. The artist recreated the items in the actual dishes. While costing 10 to 13 times what the real product does, they save money in the long run since they don't need to be replaced frequently.
Photo realism
Paulius Musteikis got started shooting food for a restaurant owner friend and has taken food photos for the Madison Club. When possible, he tries to incorporate "a human presence" when creating his shots, adding a little of the environment and someone's hand instead of simply shooting the individual plate.
Jen Lucas of Madison's Jen Lucas Photography also strives for the human touch. "I love shooting food, but I love shooting food with real people interacting with it," she said. "I'm really passionate about the mess, the people, the connections we have over food… I appreciate the honest, raw approach — lemon juice, fennel fronds, onion paper, smashed garlic how it really looks; knives how we really use them."
"I want to open up the pie and show what's inside, " said Musteikis. "It makes the food more realistic… It needs to look the same way that people will see it when they come to the restaurant."
Do it yourself
The strategy of manipulating the food while setting up a shot adds pressure to photographers and stylists, but it also feeds creativity. That's one of the things that makes shooting a picture of a dish with a smartphone and posting it to Facebook, Twitter, or Instagram different from a professionally shot work.
While it's great to be able to hire food stylists and professional photographers, the reality is that many operators don't have the budget for pros. Luckily, the proliferation of good, but inexpensive digital cameras (including those in smartphones) have made food photography more democratic. Jeff Kauck, a Chicago-based photographer who has been nominated for a James Beard award, gave a hands-on "Food Selfie" workshop at the 2014 NRA Show. He shared some of his most practical do it yourself tips in a blog post. Here are the highlights that you can try out:
Go to as many websites as you can find. If you own a hot dog stand — go find great pictures of hot dogs. See what professionals do with that same food, and that should be your standard you want to try to replicate.
For typical web work, your smartphone is perfect. Artistic apps like Instagram are useful to make small photo adjustments — they're also incredibly social-friendly and allow you to post directly from the app.
Never use on-camera flash… ever.
Daylight is easiest and best. For night shoots, find the most even light you can. Try to backlight the food a little — professionals never front light their food.
Filling your light is important because too often the shadows will be too heavy. Professionals typically use a stiff white card, but it's as simple as using the napkin on your lap (if it's white). Experiment by holding the napkin up to bounce light back into the food and trust your eye to judge when you've softened the shadows.
Chefs work very hard plating food to make it proportionate and visual. When a waiter sets a plate down and spins it, that's the way the chef wants it presented, and that's the front. That's where you shoot.
Right now, if you look at most of the food magazines, the camera hangs tight over the top and shoots straight down in what they call an overhead shot. This is always a good option.
You should also be setting up your shot at what's called "the angle that you eat." If you're sitting at a table and are looking at your food, the angle at which you would bring the fork up to your mouth is where you want to position your camera. It's what we're used to.
If you put a camera in the same place every time and use the same scale, it becomes very boring — even if the food changes. Change up the angle and change for closeness.
Get in really close for shots of something like some sauce or a Brussels sprout. Then back up and shoot the whole plate plus a little atmosphere, like a wine glass, napkin, or some silverware.
The smartphone conundrum
Speaking of smartphones, operators, Times have documented the trend and the operators' responses.
Some operators have set a "no photography" rule in their restaurants; others are rewarding amateur photographers with free off-the-menu items if they can prove they have some 500 to 1,000 followers on Instagram.
Those supporting the ban argue that the trend annoys the chef, distracts other diners and enables food to get cold. There's danger that a poor photo will reflect badly on the restaurant.
"There is a skill set that a professional photographer and experienced food stylist bring to a photo shoot and when a lot of money is being spent on advertising, clients want to feel confident in what they are getting as a final image," shared Hynes.
Those who embrace the shutterbugs, even allowing diners to stand on a chair and shoot their plates from above, are hoping that the social networks will boost their business.
A picture is worth a thousand words goes the adage. Take charge of your restaurant's image before your diners do.