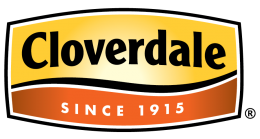 Cloverdale Foods is a 4th-generation, family-owned and operated food company committed to producing the highest quality beef and pork products for your operation. Their signature smoky and bold "Big Country Flavors" are unlike anything else on the market.
Check out our links below and discover why everything is better with Cloverdale bacon.
A Datassential report from 2020 shows that bacon has achieved 35 percent penetration on all-day breakfast menus, and bacon-wrapped items have shown 6.7 percent growth across four years.

FSR Magazine, "Using Breakfast Proteins All Day is Lowering Costs and Boosting Revenue." August 4, 2021
Flavor Profiles
Applewood Smoke: You're gonna need every taste bud on full throttle to handle this flavor combo. Smoky and sweet swirl together over real Applewood chips to infuse Cloverdale Applewood Bacon with bold smoke flavor and a hint of apple sweetness.
Hickory Smoke: When you want it smoky, Cloverdale Slow-Smoked Hickory Bacon's flavor is so rich, they crowned it the Bacon King. Smoldered over a bed of real Hickory chips, it's a flavor majesty that will make your mouth its throne.