Our Services
Not only do we distribute over 12,000 fine food products, but we offer a personalized full-service approach to supplying and marketing your business. Some of our other services include…
Menu & Recipe Development
In addition to our fully trained foodservice sales team, our on staff chef specialists and dietitians are available to demonstrate fresh, on-trend menu ideas to increase your traffic and profitability. They are able to assist in the creation and development of menus for all segments of foodservice operations. We welcome you to join us in our test kitchen at our Cloquet, MN facility or are willing to visit your establishment, depending on your preference. Please contact your salesperson for more details.
Evaluation, Planning & Marketing
Our skilled team is available to help you evaluate your operation! Whether it is menu design and marketing, inventory analysis and planning, or front-of-the-house and/or back-of-the house evaluations, we are here and ready to assist you in adding more to your bottom line. Please contact your salesperson for more details.
Graphics, Menu & Signage Design
We know how important marketing and branding is to your success! In order to help you succeed, ULF has put a skilled graphic arts department in place that is ready to work with you to create menus, table tents and posters for your operation.
Supply & Equipment
We specialize in distributing high quality equipment that makes your business more efficient. When you work with Upper Lakes Foods, you'll have direct access to the best equipment, kitchen chemicals, and customer support services whenever you need them. We assist with installation, old equipment removal, training, financing, and more.
Specialist Team
Our Specialist Team is comprised of experts in operations, development, culinary arts, center of the plate, produce, dietetics, menu planning, staff training, and more. Combined, they have more than 148 years of experience in foodservice. Their goal is to increase your efficiency with services that matter, while still keeping an eye on trends in the evolving foodservice landscape. We also have ServSafe certified instructors on our team to offer food safety training and certification exams.
Food Shows, Traveling Kitchen and Trends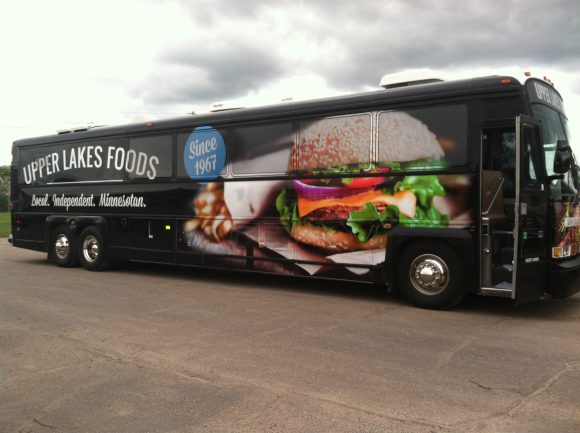 We have two food shows annually, one in the spring and one in the fall. We guarantee these shows will give you the opportunity to see and taste the latest products and trends in the industry! We take pride in having the best food shows in our region and are certain you will leave with new ideas on how to drive more traffic and profit in your establishment regardless of the segment you are in.
ULF is also well-known for our "traveling kitchen" where we bring the ideas to you! We have a bus that we have converted into a kitchen to show you the latest and greatest products we have in stock. Just sit back and relax! This meal is on us!
Financial: Pricing, data and business planning
At ULF, we truly believe we are only successful if you are successful. We want to partner with you every step of the way to ensure the success of your operation. We are ready to meet with you to review your business, to include menu costing and pricing analysis by item as well as inventory management and put a customized plan together based on your business to help you hit your goals.