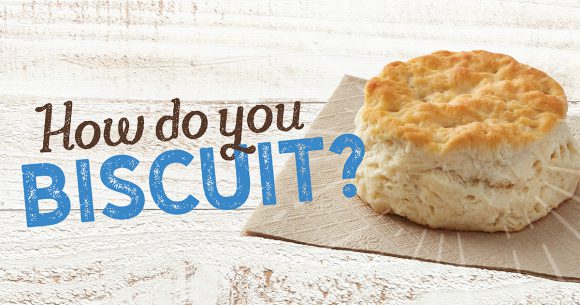 After years of trendy hybrids (remember the Cronut?), patrons are seeking good ol' comfort food and finding it in an American classic – biscuits! These hot, flaky, buttery rolls of goodness are popping up on menus all across the country just in time for National Biscuit Month. To celebrate, we're helping you spread the biscuit love all month long with new ideas.
Let's start with the goods.
Our picks.
#726141 Pillsbury Buttermilk Biscuit Dough, 120/2.6 oz.
#726068 Pillsbury Baked Buttermilk Biscuit, 120/2.25 oz.
#725603 Pillsbury Baked EZ-Split Whole Grain Biscuit, 120/2 oz.
#725605 Pillsbury Mini Whole Grain Biscuit, 175/1 oz.
#726083 Pillsbury Southern Style Biscuit, 120/2 oz.
#726075 Pillsbury Cheese & Garlic Biscuit Dough, 120/1.2 oz.
Weekly Menu Ideas
Feature new biscuit specials every week to keep your patrons coming back for more.
Fill 'em up with the BBQ Biscuit Bomb.
Make it sweet with Nutella Banana Biscuit Beignets.
And indulge with on-trend menu items like Fried Biscuit Dough Bites and a Chicken in a Biscuit Waffle Sandwich.
Promote it.
How to Promote Biscuit Month on Social Media
Make the most of National Biscuit Month by promoting your restaurant's celebration to your
customers on social media. Here are some fun and effective ways to get the word out and
increase your restaurant traffic:
Biscuit Specials
Post your Biscuit Month specials—whether monthly, weekly or daily. This is a great way to drive urgency and keep patrons coming back all month long.
Photo Contest
Launch a biscuit photo contest for your social media followers. Have them tag your restaurant and use an established hashtag when posting their photos. Award a weekly prize for the winner of your choice or based on the most "Likes". This is a low-effort way to grow your restaurant's reach for next to nothing.