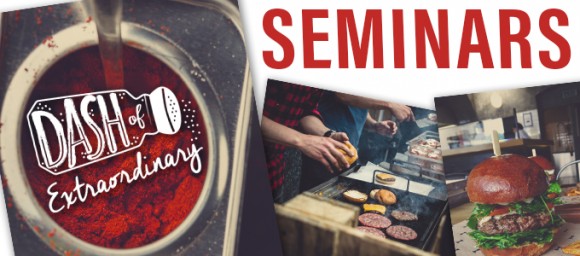 Take a break from sampling and learn a little something at one of our Spring Food Show seminars. See the schedule below, plan your day, and we'll see you on May 3rd at the DECC!
Knife Skills  |  9:15 – 10:15 a.m.
In this exciting seminar, you'll learn basic knife skills in a comfortable, hands-on environment. You will also have the chance to test your new skills by carving an animal figure!
Speaker: Jane Hempel, Dexter Russell – National Accounts Manager

Dehydration Prevention & Treatment  |  10:30 – 11:30 a.m.
This seminar will teach you the ins and outs of dehydration. How do you identify signs and causes of dehydration and which residents are at risk? You will walk away with practical knowledge on how to implement hydration programs and explore various hydration options.
Speaker: Nancy Barwick, Lyons Magnus – Regional Dietitian MS, RDN, CD

Freshen Up Your Website  |  11:45 a.m. – 12:45 p.m.
Keeping your website current, easy to access via a mobile device, filled with 'foodie' photos and connected to social media are just a few of the many updates you should consider to help keep your website fresh, and easy to find on Google. Get ideas on freshening your website and internet presence.
Speaker: Cheri Marchio, Evolve Systems – Online Marketing Strategist

How to Prepare a Cheese Board/Plate  |  1:00 – 2:00 p.m.
Everyone loves a good cheese plate. In this seminar you will learn how to prepare a cheese board/plate. Once you have the basics, you will show off your knowledge by creating your own cheese plate in class. Best of all, you'll be entered to win $100! The winner will be announced at 3:30 p.m. in Pioneer Hall at the Specialty Cheese booth.
Speaker: Cheryl Leppin, Emmi Roth – Regional Sales Manager

Cheese & Wine Pairings  |  2:15 – 3:15 p.m.
Master the art of pairing two of life's greatest pleasures: wine and cheese. This seminar will teach you the basics of pairing wine and cheese. Plus, you'll walk away with recipes, cost and methods, and most importantly, inspiration!
Speakers: Jeff Flaherty, ULF – Operations and Development Specialist
Craig Luchsinger, ULF – Culinary Specialist
---
We have applied for one clock hour for each seminar for Certified Dietary Managers, Registered Dietitians, Dietetic Technicians Registered, and MN/WI School Nutrition Directors.