Technology is a rapidly evolving trend for 2015. According to the National Restaurant Association's 2015 Restaurant Industry Forecast, roughly one-quarter of consumers say technology options are important features that factor into their decision to choose a restaurant.
This is up from the nearly one-fifth the prior year that said the same, underscoring that technology quickly is becoming an expectation rather than a novelty when dining out.
"Consumers – especially younger generations – have come to expect certain connectivity attached to their dining experiences, be it the ability to order restaurant delivery with a smartphone app, access wi-fi in their favorite coffee shop, or review menus and make reservations online," said Hudson Riehle, the NRA's senior vice president of research.
"While restaurateurs understand their guests' desire for technology options and more are adopting various forms thereof, the cost and integration into existing store systems can still pose challenges," Riehle said.
A gap remains between what consumers want and what restaurants currently offer. That gap is narrowing, though, and it will close further over the next several years as restaurant technology evolves and more options enter the marketplace.
Despite increased consumer use of tech, machines may be an inadequate substitute for the personal service that many consider to be the hallmark of dining out. NRA research clearly shows that consumers still want humans as part of their restaurant experience, yet look to technology to increase service speed and convenience.
Lifestyle choices
Another developing trend for 2015 is related to how today's consumers tend to make lifestyle choices in a "big picture" kind of way and apply those preferences to a wide range of situations – including dining out. As Americans lead ever-busier lives with little leisure time, they want and expect menu options that allow them to adhere to their chosen life philosophies.
"As restaurants have become part of our daily lives, consumers want to stay consistent in their purchases across broad spending categories," said Annika Stensson, the NRA's senior manager of research communications. "Food choices very much fit into that pattern."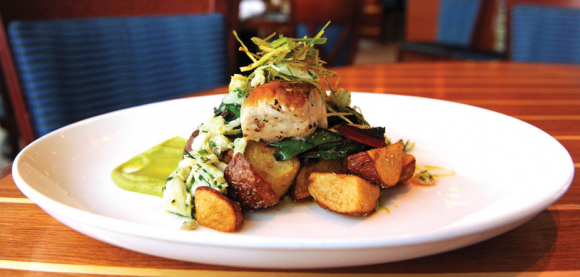 "People who buy electric cars and eco-friendly household cleaners also look for environmental sustainability when picking a restaurant. And consumers who adhere to healthy lifestyles want to find nutritious options no matter where they choose to go without sacrificing convenience," Stensson said.
NRA research shows that nine in 10 consumers say food quality is an important factor for choosing a restaurant, and six in 10 consider themselves more food adventurous now than two years ago.
Sixty percent of consumers say they are more likely to pick a restaurant that offers menu items that were grown or raised in an organic or environmentally friendly way, up from 55 percent the previous year.
In addition, consumers are showing increasing interest in local sourcing, and more restaurateurs are taking notice. More than eight in 10 tableservice operators say their guests are more interested in locally sourced items this year, compared with seven in 10 who said the same a year earlier. And, 69 percent of consumers say they are more likely to visit a restaurant that offers locally produced food items. That's up 5 percentage points from what consumers said a year earlier.
Meanwhile, eight in 10 of consumers say restaurants offer a wider variety of healthy menu options now compared to two years ago, and three-quarters say they are more likely to visit a restaurant that offers healthy options; seven in 10 say they also order more healthful options in restaurants than they did two years ago.