We are pretty tech savvy here at Upper Lakes Foods, and we are all about using technology to make our customers' lives easier. ULF is proud to bring you a smartphone app that is your complete guide to the Spring Food Show, complete with maps, exhibitor information, and so much more! Best of all, it's free!
There are two ways you can access the app.
You can manually type the url m.twoppy.com/ulfshow into your mobile browser.

Using a QR code reader (you can download a free reader in the App Store), click on the image below and scan the code. Your browser will automatically open the event page. Click the image below for the code.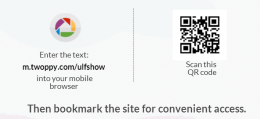 Additional features:
There's a lot to see and do at the Food Show, and with the app you have the option of "bookmarking" booths you want to visit. These are then added to a personal agenda to help you stay on track! See the vendors you want to see, taste the food you need to taste.
Curious to know what other people are saying about the show? A live Twitter feed is built into the app, feel free to join the conversation! Just tweet @UpperLakesFoods or end your tweet with #ulfshow.
Know where and what time the seminars, giveaways, and demonstrations are being held.
Browse through our master list of exhibitors, learn a little about them, explore their social media sites, then hit "Show on Map" to bring you to their exact location.