Colleges and Universities, UniPro Foodservice Net News. 11/3/2014
What's Trending at Colleges and Universities?
Foodservice in higher education will grow 4.5 percent in 2015 according to the most recent Technomic forecast, even as there is growing pressure to hold the line on meal plan pricing.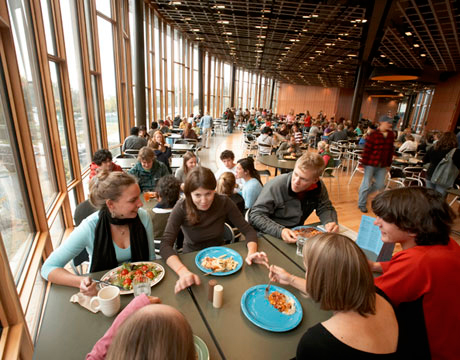 Residential populations in many regions are on the upswing as many colleges look to expand on-campus residential capacity. "The low cost of capital has led to a mini-boom in housing," says Rob White, president of Envision Strategies. For some, it's a strategy to increase revenue per student. "If you are on a campus where this is happening, you're in growth mode. If not, the only growth we see is the conversion of casual customers to voluntary meal plan holders." FSD's who have already focused on this have probably realized most of its potential, White adds.
Retail programs are seeing a modest benefit as austerity created by the long economic downturn wears off and operators get better at marketing their retail programs and value.
Demand for sustainable and local food offerings, "special diet" menus, more organic, hormone-, antibiotic- and GMO-free ingredients continues even as their use raises college food costs. Schools want directors to offer such options "but also to find a way to afford it without raising prices," White says.
More colleges are facing financial strains as costs rise faster than tuition. Signs include tuition freeze proposals for the U-California system and the move by prominent private schools to reduce "sticker-price" tuition rates. Smaller schools in some regions are coping with lower admission rates and campus populations.
Aside from cost-cutting many see as reducing competitiveness, administrations have only a few options. One continues to be that of asking auxiliaries for increased contributions. Another is to seek front-end cash infusions from outsource providers seeking long-term contracts.
Meanwhile, rising student loan debt, continued under-employment of recent graduates and growing public skepticism about whether college is a good value are creating increased tuition price resistance. A Sallie Mae study in mid year showed that families are taking a multitude of actions to reduce their college expenditures.
On the brighter side, state budgets for higher ed are rebounding, according to the annual Grapevine report from Illinois State University. However, support still lags that available five years ago in 2008-09.
Trends Checklist
An emphasis on improving student retention continues to be seen as a key strategic initiative at many schools. Dining programs that support this goal are gaining administrative support.
Administrators with outsourced foodservices are re-evaluating contract terms. Educating them about dining program realities and to better articulate expectations is key, says Ted Mayer, vp at The Rochelle Group.
Residence hall kitchens are getting increased use, as reported in theChronicle of Higher Education. College c-stores are adding a wider mix of grocery offerings to cater to the trend.
Cautionary read of the year: "College Unbound," by Chronicle editor Jeffrey Selingo, paints the picture of a higher ed establishment pricing itself out of its market and over-investing in luxury at the expense of its basic value proposition.
Source: Food Management.