Get ready, restaurants. Your menu is about to start trending.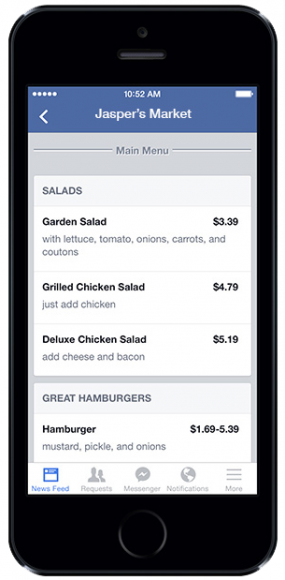 Facebook has just added an important feature that is long overdue: menus. Now restaurant-based Facebook pages, thanks to a partnership between Facebook and SinglePlatform, can have their actual menu right there on their timeline for both mobile and desktop.
Restaurants who have uploaded their menu through SinglePlatform, a branch of Constant Contact, can easily have their menu accessed from the Facebook page in tab form. For those that do not currently work with SinglePlatorm, Facebook gives you the option of uploading a PDF version of your menu.
To access this feature, open your Facebook page and select: Settings > Page Info > Menus
An excerpt from the official Facebook for Business blog post:
"When looking for a great meal, people often turn to Facebook to find a restaurant's location, hours of operation and menu. That's why, beginning today, we're making it easier for restaurants worldwide to display one of their most important assets directly on their Facebook Page – their menus."
Sources: Facebook for Business, https://www.facebook.com/business/news/restaurant-menus-facebook-pages
Lafferty, Justin. Inside Facebook. http://www.insidefacebook.com/2014/05/22/new-addtion-menus-for-restaurant-facebook-pages/