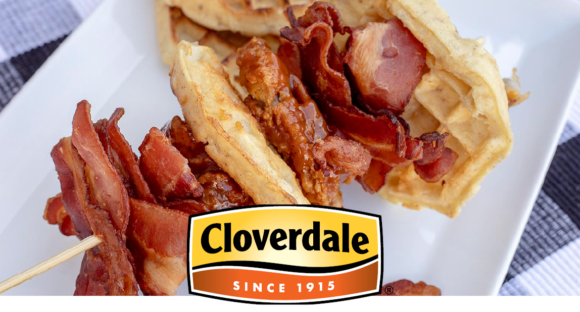 Here are some easy ways to find the bacon that is the best fit for you and your operation.
1. How it's packed.
We will highlight two ways in which bacon is sold in foodservice: shingle and grill ready.
Shingle Bacon: Sliced bacon that is packed so each slice is slightly overlapping. You see this most often in your grocery store. Slices are removed individually and placed on a cooking surface.
Grill Ready Bacon: Individual bacon slices placed on parchment paper with no overlap, on average 8-9 slices per sheet. Conveniently, the parchment, along with the bacon, can be placed in the microwave, on a sheet pan for the oven, or directly on the cooking grill.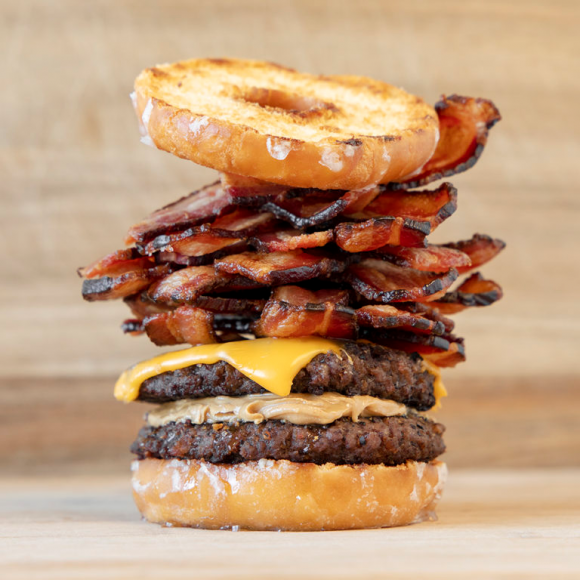 2. How it's sliced.
The slice count is extremely important when deciding which bacon to use. Bacon with a 9-12 slice count means that, on average, there are 10 slices of bacon per pound. A 14-18 slice count bacon would be thinner slices, averaging about 16 slices per pound. An 18-22 slice count bacon would be thinner still and average 20 slices per pound.
3. Think beyond breakfast.
Bacon fits on all menus, and not just for breakfast. Adding bacon is a great way to enhance any menu item including sandwiches, soups, dressings, salads, appetizers, desserts, and more. Adding roughly 50¢ worth of bacon lets you increase the menu item price by $2 or more.
4. Pick your flavor profile.
Applewood Smoke: You're gonna need every taste bud on full throttle to handle this flavor combo. Smoky and sweet swirl together over real Applewood chips to infuse Cloverdale Applewood Bacon with bold smoke flavor and a hint of apple sweetness.
Hickory Smoke: When you want it smoky, Cloverdale Slow-Smoked Hickory Bacon's flavor is so rich, they crowned it the Bacon King. Smoldered over a bed of real Hickory chips, it's a flavor majesty that will make your mouth its throne.
Our picks.
Applewood Smoke
Grill Ready 10-12 Applewood Smoked Bacon
549254 2/7.5 lb.
Grill Ready 14-18 Applewood Smoked Bacon
549213 2/7.5 lb.
Grill Ready 14-16 Applewood Smoked Bacon
549243 2/7.5 lb.
Grill Ready 14-18 Double Applewood Smoked Bacon
549232 2/7.5 lb.
Grill Ready 18-22 Applewood Smoked Bacon
549251 2/7.5 lb.
10-12 Double Applewood Smoked Shingle Bacon
549231 2/7.5 lb.
10-12 Applewood Smoked Shingle Bacon
562162 2/7.5 lb.
14-18 Applewood Smoked Shingle Bacon
562174 1/15 lb.
Hickory Smoke
Grill Ready 14-18 Deluxe Hickory Smoked Bacon
562166 2/7.5 lb.
Grill Ready 18-22 Hickory Smoked Bacon
549278 2/7.5 lb.
9-12 Hickory Smoked Retail Saddle Pack/Shingle Bacon
549163 1/4 lb.
10-12 Hickory Smoked Shingle Bacon
549242 1/15 lb.
14-16 Hickory Smoked Thick Shingle Bacon
549217 2/7.5 lb.
14-18 Hickory Smoked Shingle Bacon
549279 4/7.5 lb.
18-22 Hickory Smoked Shingle Bacon
549247 2/7.5 lb.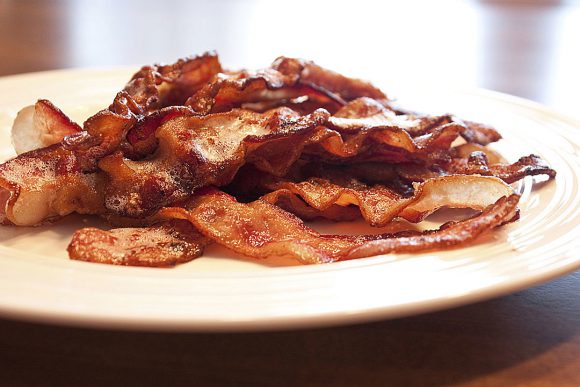 Bacon Ends and Pieces
549222 8/3 lb.
When a recipe calls for bacon, Cloverdale naturally slow smoked bacon ends and pieces are the perfect add-in. Whether tossing into a satisfying salad, topping a loaded potato, or mixing into a casserole, ends and pieces of bacon give you that crispy, smoky flavor experience. This savory bacon delivers 3 grams of protein per serving and can be enjoyed for breakfast, lunch, and dinner.