by Bekah DeJarlais, K-12 School Specialist
K-12 schools can save money, time, and labor by cross-utilizing foods they buy or receive from USDA.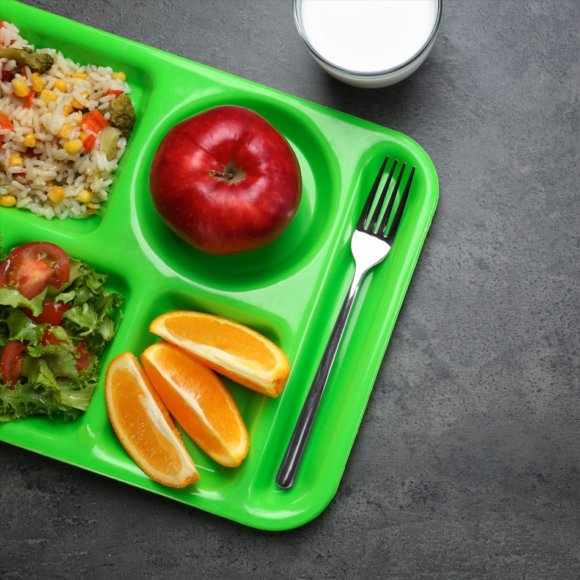 After several months of pandemic uncertainty, K-12 foodservice programs need a change. Speed-scratch recipes offer nutrition, convenience, and variety in the front and back of the house that students and staff will appreciate.
Post-pandemic palates want something other than prepackaged, grab-and-go foods they were accustomed to eating last year. Menu fatigue is occurring, and speed scratch cooking can help the need for any size program.
What exactly is speed-scratch cooking?
It's simply removing a portion of the scratch cooking process to make the final recipe easier. For instance, a chicken carnitas burrito bowl created with pre-cooked whole grain brown rice, frozen USDA veggies, DOD shredded lettuce, and already cooked chicken carnitas meat saves your team the time of cooking the rice, chopping the veggies, and roasting a chicken. It allows a school kitchen to reduce time and provide opportunities to use one food product in multiple recipes. For example, beef crumbles can be used in everything from a nacho bar, marinara sauce, tacos, or a breakfast burrito.
Whether you're serving 100 or 1,000 meals daily at breakfast and lunch, finding products that fit within multiple recipes is critical!
Speed-scratch could also mean purchasing pre-cut fruits or vegetables for a salad bar and changing the products weekly. Keep the students guessing, and they'll be back every week. Add variety to the salad bar using different grains like quinoa, couscous, or a tuna or egg salad. More cafeterias are returning to students serving themselves, so the more options offered, the more likely they will eat better.
Bowl builds are a speed-scratch opportunity, and are seen restaurants like Crisp & Green, Chipotle, or Leeann Chin. Students can create a salad bowl, burrito bowl, or an Asian-inspired bowl like they eat outside of school. Now that your brain juices are flowing, you are thinking, "How can I make this work in my district?"
The recipe concept is key, so start small and don't try to tackle everything at once. Think about some of your favorite meals, pick one, and try it with the staff. Try making a contest for staff to participate and collaborate!
There are other ways to get speed-scratch ideas too. Manufacturers and brokers offer many recipe ideas and are eager to work with schools. Or look online for groups such as Tips for School Meals that Rock to get ideas. Why recreate the wheel if we can share in each other's success?
Speed-scratch cooking can save your district time and money if done correctly.