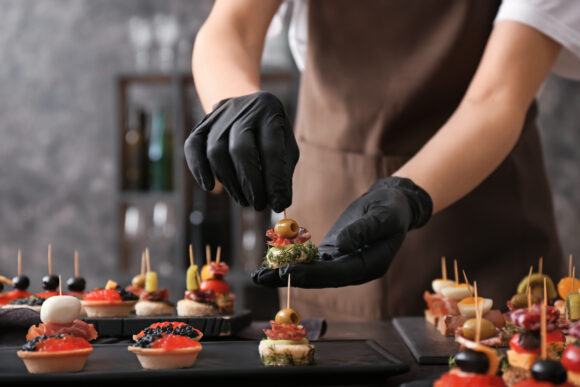 In-person events are making a huge comeback this summer. While we are still feeling the effects of the pandemic, this year's catering trends are driven by more than health and safety concerns. Hint: Expect to see more plant-based dishes, fun mocktails, foods that evoke nostalgia, and continued safe service solutions.
An Increase in Plant-Based Options
More and more people are trying out a vegetarian or vegan lifestyle for health reasons and environmental concerns. Luckily, a surge in vegan-friendly proteins and local, fresh produce means that meatless options can still be flavorful and vibrant.
Datassential's 2022 Trend Report found that 36% of consumers are trying to increase their consumption of plant-based proteins in 2022.
We recommend offering a vegan option like Kellogg's Incogmeato Veggie Burger (#591318) or Gardein's Golden Vegan Fishless Fillet (#569728) to your menu.
Creative Mocktails are Having a Moment
Formerly called a "virgin" drink, these beverages have gotten a makeover. Now called "mocktails," they're increasingly gaining consumer interest from those who want to enjoy the social experience of drinking without the hangover.
These craft cocktails are made with upscale ingredients like teas and herbs to mimic the nuances of their alcoholic counterparts.
Elevated Comfort Food
We all love a dish that brings us back to happy times — and guests crave the comfort of something familiar in a new and exciting way. Think about offering elevated versions of s'mores, pot pies, chicken and waffles, corndogs, or mac and cheese.
Sustainability
Zero-waste is still a big buzzword in food service. Using washable and reusable tableware or sustainable disposable items is an impactful way to reduce the carbon footprint of the event. Check out page 10 of this guide for compostable options, or reach out to your salesperson to learn more about your options.
The biggest trend we see on the horizon? Gratitude for being together again.