Local, distinctive, and delicious.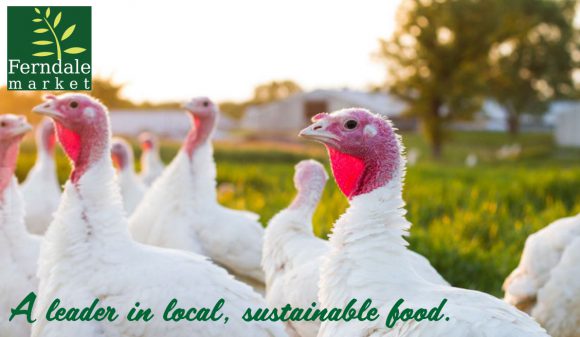 In our opinion, nothing is worse than a bland slice of turkey. Ferndale Market feels the same way.
Ferndale turkeys grow naturally, without the use of antibiotics or artificial growth promotants, and they enjoy constant access to a diet of grains, vitamins, and minerals from a local feed mill. All Ferndale turkeys are processed-naturally, without additives, at a USDA facility. When you believe in the quality of the product like we do, there's no reason to mask the flavor with sodium and added flavors.
Their two new turkey breast products are perfect when sliced and piled high on a tasty sandwich, cubed and mixed with a fresh salad, or served just as they are.
Smoked Turkey Breast, #694142
Oven Roasted Turkey Breast, #694143
Smoked Turkey Breast, #694142, 1/35 lb. avg.
Made with whole muscle tom breast meat, clean ingredients, and hardwood smoke, this smoked turkey breast has the flavor and texture not found in lunch meat today. Cured naturally and perfect for deli slicing.
Ingredients: Turkey Breast, Water, Sea Salt, Maple Syrup, Brown Sugar, Cultured Celery Juice Powder
Oven Roasted Turkey Breast, #694143, 6/3 lb. avg.
They use only clean ingredients and whole muscle tom breast meat to create a delicious breast with natural turkey flavor and true texture. Perfect for deli slicing or served warm for traditional turkey dinners.
Ingredients: Turkey Breast, Water, Sea Salt, Yeast Extract, and Citrus Extract