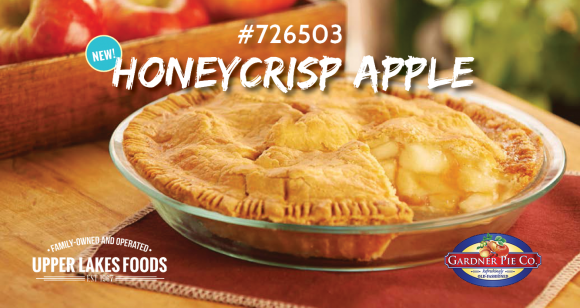 At last, the quintessential American dessert is combined with a special kind of apple created in the Midwest. We've got a good "filling" about this.
#726503 Gardner Pie Unbaked Honeycrisp Apple 10″, 6 ct.
Developed at the University of Minnesota – Twin Cities (source), Honeycrisp is a cultivated variety of apple renowned for its hardiness, crisp texture, and juiciness. Its flavor bursts with every bite, and strikes a perfect balance of sweet and tart. They are also a delicious addition to salads, desserts, and baked goods.
Did you know? The Honeycrisp was named the official state fruit of Minnesota in 2006.
From rich, flaky crust to mounds of juicy, fresh fruit, every Gardner pie is bursting with homemade goodness. They use only the finest and freshest ingredients and follow time-honored recipes, so you can count on old-fashioned flavor in every delicious bite. Their pies are kosher-dairy and have 0g trans fat per serving. One taste and you'll understand the difference – The Gardner Difference.