Smaller, simpler menus boost both your profitability and operational efficiency.
Even in a pre-pandemic world, overly complicated menus had a habit of dragging down prep and ticket times, filling up precious space in your inventory, and even confusing your customers.
When the pandemic hit, takeout and delivery became the only way for restaurants to stay afloat. Operations had to trim down their menus to items that traveled well and wouldn't burden understaffed kitchens. Now that the industry is returning to on-premise dining, smaller and more operationally-friendly menus still make sense in many locations.
For many operators, the issues of limited supply, labor shortages, and the ability to execute a dish for takeout or delivery meant focusing on smaller, simpler menus. Menu simplification is one of the most powerful tools to build profitability moving forward.
53% of consumers like the way restaurants have simplified their operations during the pandemic and would like to see those changes permanently.

Technomic Consumer Ominbus, November 2020.
Immediate cost-saving changes can include removing lower-margin menu items and increasing product versatility. Offering fewer choices also means less food waste and quicker prep times. This leads to more orders and faster table turn, which is especially important because sanitation procedures between customers can take precious time.
Remember, your menu is supposed to work for you – not the other way around. Here are some more things to consider as you take stock of your menu.
Determine guest favorites based on past sales performance over the past year, those are your menu must-haves!
For takeout and delivery, modify recipes to improve their portability and traveling/holding time.
Adjust prices for the added expense of packaging and delivery.
Put a spotlight on items that you want to sell more of – give them prominent placement, highlight them with graphics, or create a new menu category like "Limited Time Menu."
Utilize specials and limited-time offers to build variety, capitalize on seasonality, and test new concepts.
Reduce or eliminate intricate menu items, both in terms of the number of ingredients and/or the labor and time it requires to produce them. On the other hand, be cautious of removing so many items that variety or your brand identity is compromised.
Speed up ticket times with items that are easy to prep and serve, such as hummus and pita chips or pre-made desserts.
Realize that many customers now have more compassion for restaurant owners, and may be more tolerant of inevitable price changes.
Evaluate pricing in terms of margin rather than strictly food cost. A steak dinner may have a higher food cost, but it typically generates more profit for you. You can also try tweaking the recipe or portion size to deliver better performance.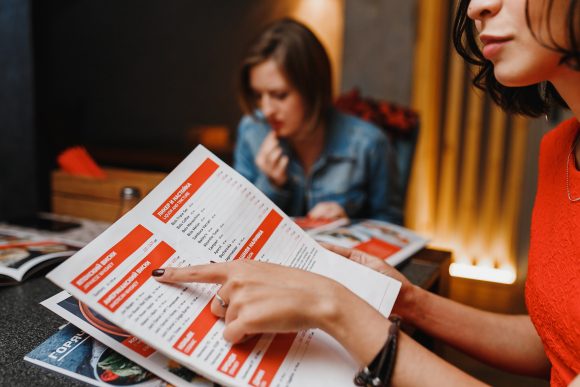 What the Experts Say
Mark Laux is a managing partner with HotOperator, the leading restaurant menu design-engineering firm in the United States. At Restaurant Marketing Symposium, part of the Midwest Foodservice Expo, Laux delivered some key insights on menu design engineering. You can view it here.
Laux reveals a Technomic research study found that the magic number of items in each category of your menu is seven; seven appetizers, seven entrees, seven desserts.
Have more than seven? Don't panic, Mark recommends making sub-categories with three items. EX. A sub-category of appetizers could be flatbreads with three choices.
Offer too many menu options to diners and indecision can take over. Technology, Entertainment, Design (more commonly known as TED Talks) recently featured speaker Barry Schwartz in a presentation titled, "The Paradox of Choice: Why More Is Less."
Schwartz points out that numerous possibilities "produces paralysis, rather than liberation," he says. "With so many options to choose from, people find it difficult to choose at all." View it for free here.
Our team of specialists is here to help you with menu engineering, design, costing, and everything in between. Ask your sales rep about the resources available to you.