"From Ho Hos to Eskimo Pies, blasts from the past are claiming spots on dessert menus as playful pastry chefs go for a retro-meets-whimsical approach. Thanks to their nostalgic charm, they also work in over-the-top milkshakes."

12 Ways with Dessert, Datassential.
Though you may think classic desserts like Baked Alaska and Jell-O have gone the way of VHS players and rotary phones, they are making a comeback. Today, chefs are taking timeless flavors and giving them a new spin. Unlike exotic or unfamiliar flavors, there's no concern that these classic desserts won't perform well on menus because they are already so loved. These nostalgic dessert ideas will help your customers journey back into the past, one spoonful at a time.
Dessert pizza made its debut back in the 1990's, and it's modern cousin is the Dessert Flatbread. Make it with Rich's Cheesecake On Top Whipped Topping and top with seasonal fruit and a drizzle of white chocolate sauce. Or make it sweet and kid-friendly with chocolate spread, chopped M&M's and a drizzle of caramel sauce. Dessert flatbreads are a customizable yet decidedly retro option that guests will love.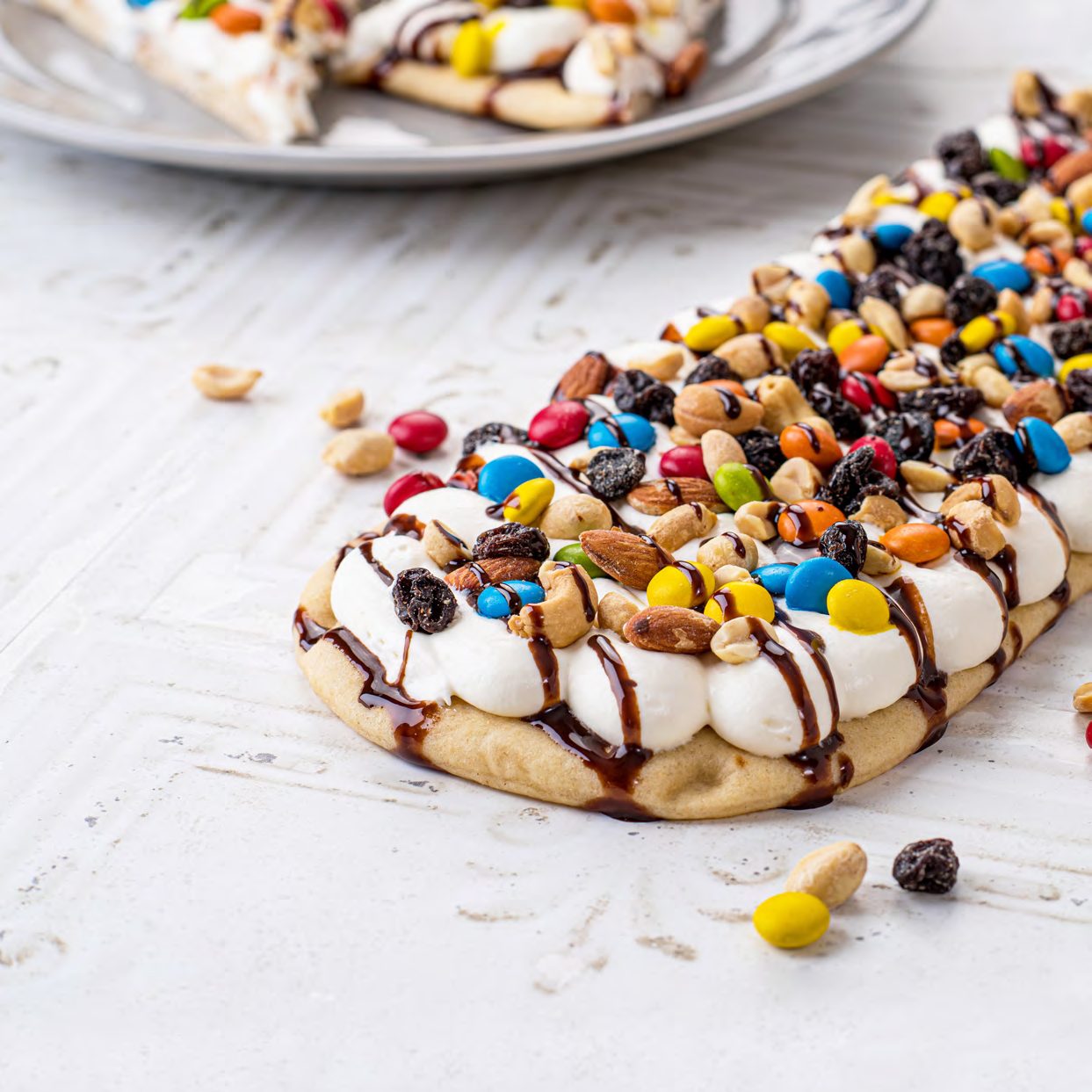 Dessert Flatbread
INGREDIENTS
3 oz. Rich's Cheesecake Dessert Whip (709175)
1 Each Rich's Oval Flatbread (716881)
3 oz. Trailmix (430775)
1 oz. Lyons Chocolate Sauce (350658)
DIRECTIONS
Pipe layer of Dessert Whip onto flatbread.
Assemble toppings.
Finish with a drizzle of chocolate sauce.
---
Milkshakes have been enjoying a moment in the spotlight as over-the-top "freakshakes," which are piled high with whipped cream, candies, cereal, whole cookies, or donuts. But no matter which toppings you choose, the three most popular milkshake flavors are still the classics: chocolate, vanilla, and strawberry.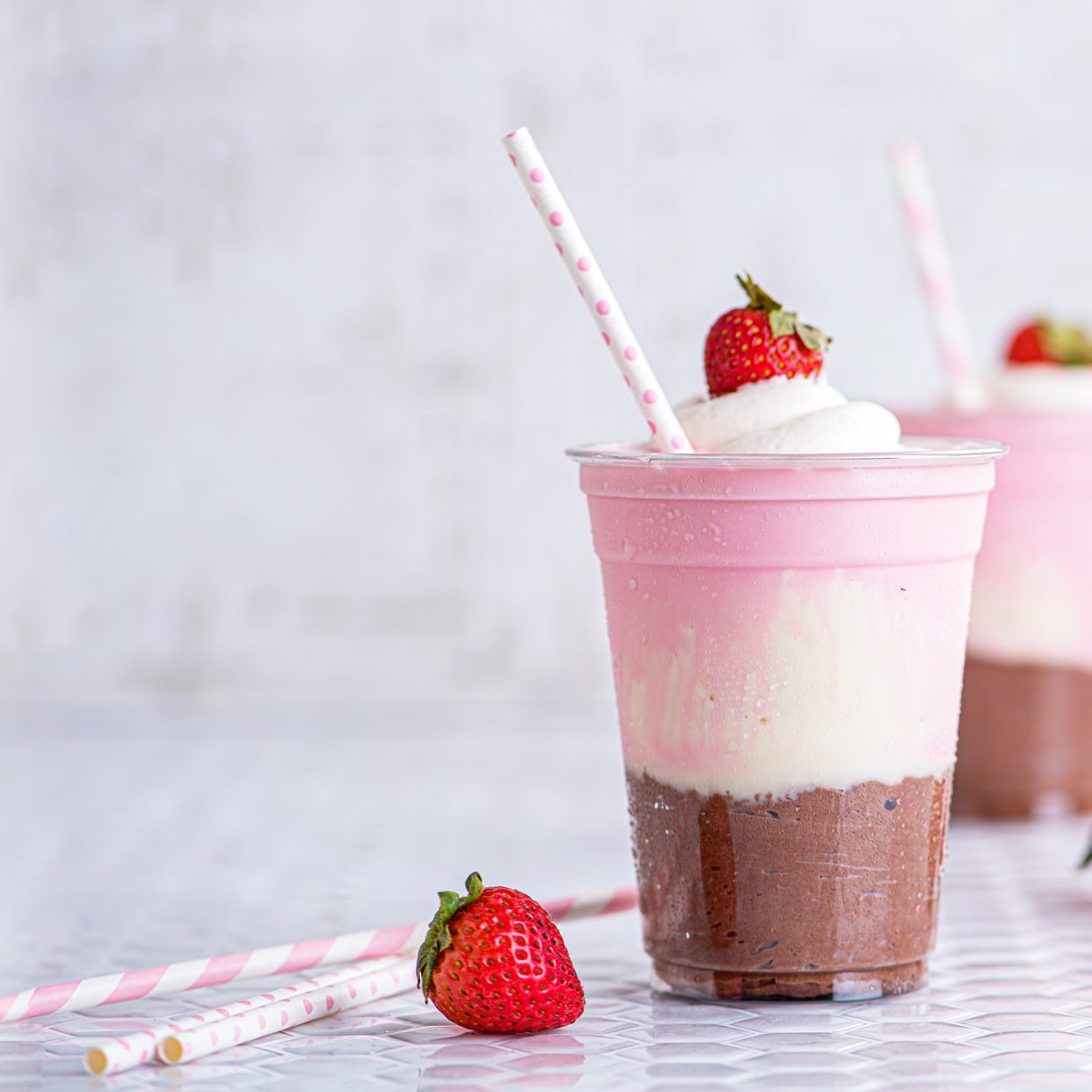 Neapolitan Milkshake
INGREDIENTS
2 oz. Rich's On Top Whipped Topping (709053)
½ C Kemps Chocolate Ice Cream (755212)½ C Kemps Vanilla Ice Cream (755558)
½ C Kemps Strawberry Ice Cream (755214)
3 tsp. Milk
1 Fresh Strawberry, For Garnish
DIRECTIONS
Place vanilla ice cream and 1 tsp. milk in blender and mix until smooth.
Repeat step 1 with strawberry ice cream and chocolate ice cream with remaining milk.
Pour chocolate ice cream mixture into cup.
Pour vanilla ice cream mixture into cup.
Pour strawberry ice cream mixture into cup.
Top with Rich's On Top Whip.
Garnish with fresh strawberry
---
We're going way, way back for this one. Parfaits originated in France in the mid-1890's, and they have proven to be a timeless crowd-pleaser. Traditional French parfaits are simpler than American parfaits, as we added ingredients granola, nuts, yogurt, and fruits to the luscious layers. According to Datassential 2019 Menu Trends, the appearance of parfaits on restaurant menus has grown 12% since 2015.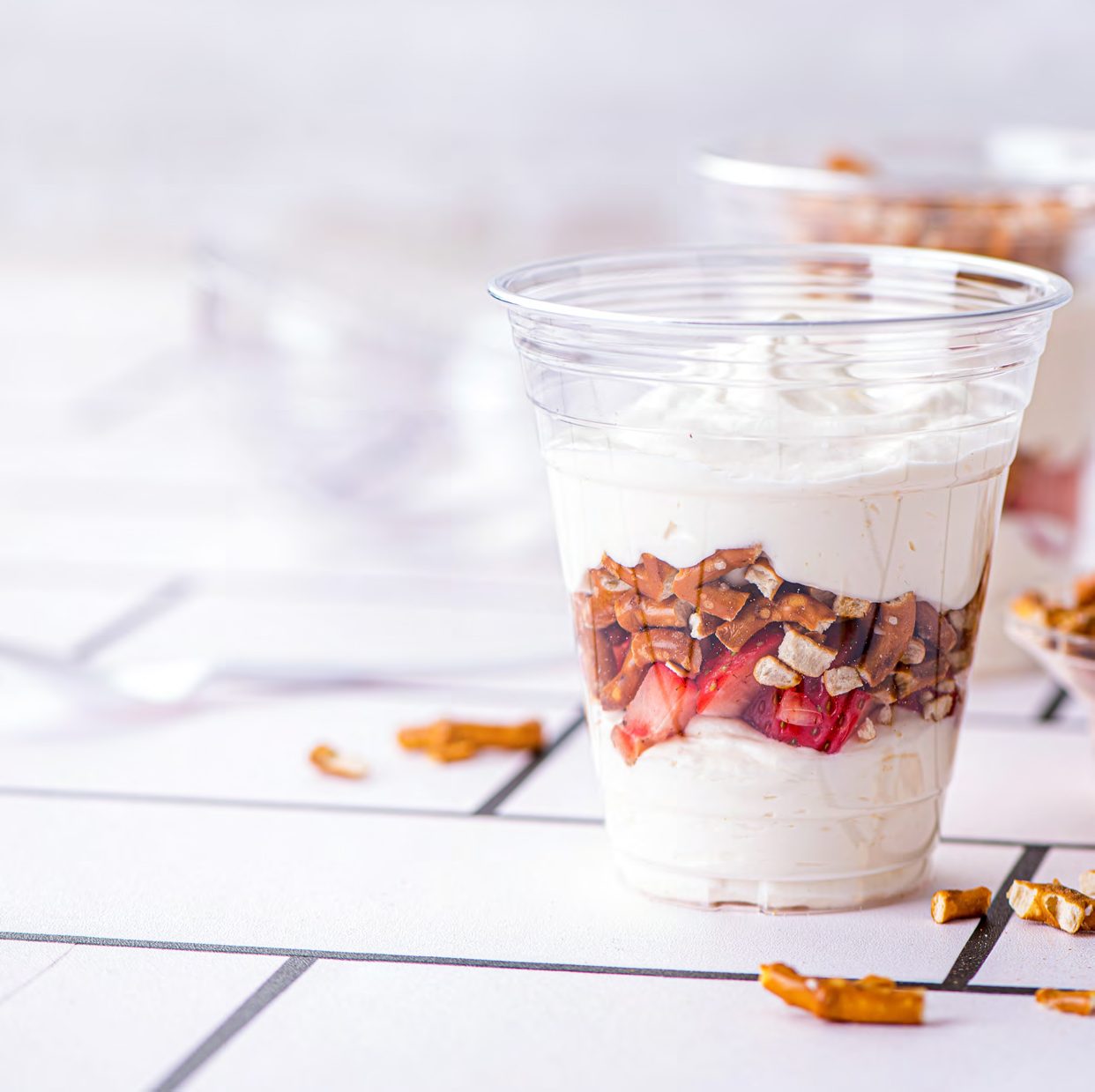 Strawberry Parfait
INGREDIENTS
4 oz. Rich's Cheesecake Dessert Whip (709175)
2 oz. Fresh Strawberries, Chopped
2 oz. Old Dutch Pretzels, Chopped (203905)
DIRECTIONS
Pipe half of Cheesecake Dessert Whip as a base.
Top with a layer of fresh strawberries and chopped pretzels.
Pipe remainder of Cheesecake Dessert Whip.
Garnish with more chopped strawberries and pretzels.
---
Don't forget to make it to-go! Here are our product recommendations to make sure desserts arrive in perfect condition.
Nexclear 16/18 oz. Cup
802021 – 20/50 ct.
Nexclear 20 oz. Cup
802022 – 20/50 ct.
Kalclear Clear Dome Lid
802039 – 10/100 ct.
FabriKal Flat Lid X-Slot
802059 – 10/100 ct.
"There's a perception that nostalgia stands for wholesome, so classic desserts are often embraced with enthusiasm by diners who feel less guilt about indulging in sweets that are steeped in tradition."

Sweet Memories Define Dessert Trends, FSR Magazine.