Crafted with many of the premium ingredients you'd find in your kitchen, the taste, quality and texture of Marie's Dressings are as close to scratch-made as it gets.
Get ready for culinary inspiration.
#270161 – 2/1 gal. Marie's Chunky Blue Cheese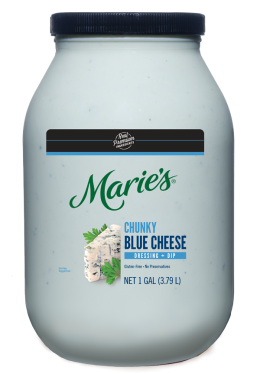 Creamy texture, tangy flavor and visible chunks of real, high-quality blue cheese add to this dressing's premium perception and authenticity.
With real bits of blue cheese, this rich dressing is the perfect dipper for veggies and chicken wings of all flavor varieties. Make flatbreads and pizzas stand out by swapping basic red sauce with creamy blue cheese dressing.
For something more savory, infuse into mac and cheese for an exciting alternative to a cozy classic. Add an unexpected twist to a traditional grilled cheese with thinly sliced fruits such as apples and pears and a smear of this Chunky Blue Cheese Dressing. And it's the perfect companion for figs, dried fruit, nuts and even white chocolate.
Add crunchy texture to fish tacos with a blue-cheese slaw. And of course, you can always update the classic wedge with radicchio and Bibb lettuce.
#274338 – 2/1 gal. Marie's Blueberry Pomegranate Vinaigrette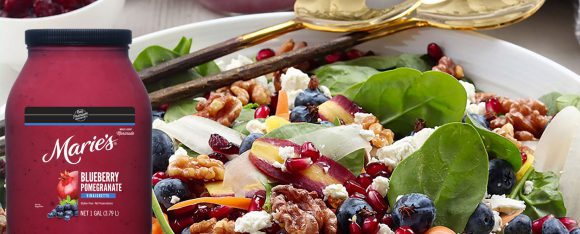 Bright flavors highlight this sweet and silky vinaigrette featuring distinctive fruity currents of blueberry and pomegranate.
Fruity salads, lighter lettuces and greens shine with the sweet flavor and deep fruity notes of this intense vinaigrette. But marinating and glazing brings proteins-such as pork, lamb and fish-to another level.
For a taste of the unexpected, add a pop of superfruit flavor to smoothies, ice cream and summery desserts – like angel food cake or Lady Fingers with grilled fruit.
See our recipe for the Antioxidant Salad pictured above. 
#274340 – 2/1 gal. Marie's Creamy Poblano Dressing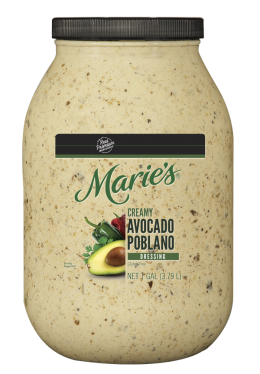 Spicy poblano peppers meet cool and creamy avocado in this smooth dressing boasting notes of buttermilk and lime juice.
The smooth spice of this creamy dressing offers endless ways to add Southwestern flair to all kinds of applications.
Top and toss fish, shrimp, beef, chicken and pork tacos. Add depth when you drizzle into savory soups, stews and dips. Or enliven a classic Mexican salad featuring corn, black beans and avocado.
As a marinade, it brings out rich flavor in proteins that are perfect for rolling into enchiladas and burritos.
Check our our recipe for Shrimp Tostadas.
#270130 – 2/1 gal. Marie's Creamy Ranch Dressing

Classic, creamy blend of buttermilk, onion, garlic and parsley create a bold and balanced traditional ranch flavor, just as it should be.
As the #1 dressing in the category, Ranch is a must-have for any operation. Its creamy flavor profile -with pops of garlic and parsley- is the perfect marinade for fried chicken. The buttermilk base acts as a flavorful tenderizer for breaded chicken applications.
Drizzle on fried green tomatoes or dunk all kinds of veggies into its smooth layers of flavor. It's especially delicious on any salad made with crisp, ribbed lettuce varieties.
Outside of the garden, it's a great dip for french fries and pizza and elevates any sandwich it tops.
When you're looking to fuse classic favorites with modern offerings, dress grilled beets with shaved fennel, spring radish and charred onions.
#270127 – 2/1 gal. Marie's Creamy Caesar Dressing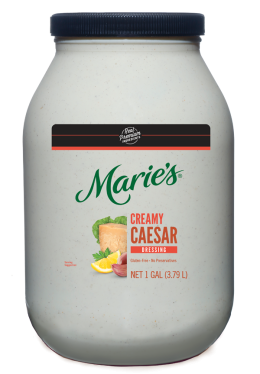 Romano cheese, anchovy, sour cream and buttermilk come alive in this rich Caesar flavor profile featuring notes of garlic and lemon juice for a high-quality dressing.
Caesar is a must for any operation. From traditional takes to innovative salad ideas, this premium dressing adds rich flavor to all styles of Caesar salad-and any application that calls for crisp romaine and a protein.
Toss chicken and noodles for a modern pasta dish or drizzle over a roast beef sandwich. You can also marinate chicken and seafood to add a creamy dimension to grilled items.
#274339 – 2/1 gal. Marie's White Balsamic Shallot Vinaigrette

Rich and bold notes balance beautifully in this savory, full-bodied dressing made with white balsamic vinegar, white wine, extra-virgin olive oil, Dijon mustard and shallots.
The white balsamic, shallot and white wine notes in this elegant dressing pair well with bitter-leaf lettuces such as those found in a mesclun.
As a marinade, the light flavor adds a health halo to many dishes and enhances proteins such as fish, chicken and more.
For a new spin on classic vegetable medleys, try tossing black olives or diced green tomatoes to add depth of flavor without weighing down fresh ingredients.
#274317 – 2/1 gal. Marie's Honey Mustard Dressing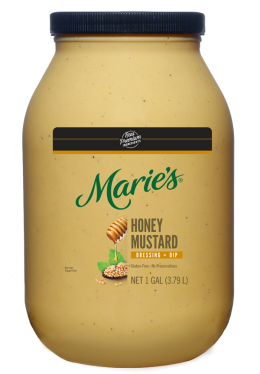 Thick and savory flavor upscales a variety of applications with a harmony of real honey, apple cider vinegar and Dijon mustard.
A popular addition for dipping appetizers, Honey Mustard offers wide appeal. Roast nuts for a shareable snack, bring a sweet and spicy element to bratwurst, braise a pork belly or mix with Marie's White Balsamic Shallot Vinaigrette and thyme for an elegant grilled chicken marinade. Spread on toasted artisan bread to upscale a charcuterie plate.
Honey Mustard makes hearts of romaine topped with grilled mahi-mahi, cherry tomatoes, cucumbers and crispy onions pop.
Angel hair pasta adds a new texture to a mix of crispy greens, grilled chicken, tomatoes and cucumbers topped with our Honey Mustard dressing.