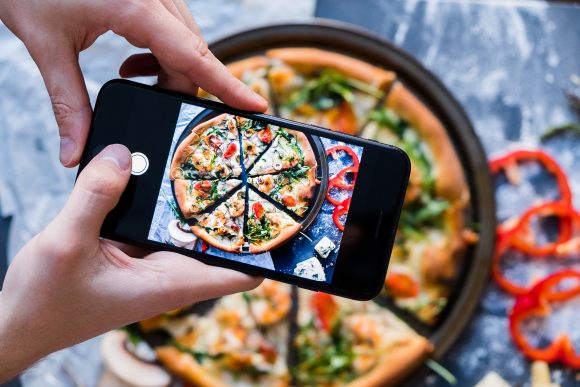 You've got the products, your staff is trained, your dining rooms has been set up, now you just need the people. We have some unique marketing ideas to spread the word and sample posts for you to use.
Update your website and social media profiles with your new offerings. Be sure to clearly outline all safety measures and social distancing guidelines you've put in place so customers can feel secure shopping at your restaurant. Also reflect any changes in days/hours of operation.
Social media

Make it personal. Talk about who you are, who your employees are, and why you want to help the community.

Facebook Live and Instagram Live videos showing what you have for sale that day.

Post recipe ideas customers can make at home.

Engage. Answer all questions people have.

Signage, signage, signage. Did we mention signage? Grab customers' attention with outdoor banners or sidewalk menu boards.
Your local neighborhood app, like NextDoor.
An oldie but a goodie: direct mail campaign.
The high-tech version of a direct mail campaign: email. Send e-blasts to your customer distribution list. Craft a simple email message about the new opportunity for your community and diners. Include photos of your products, menu and describe the new restaurant set-up. Oh, and be sure to check spelling before hitting Send.
Radio advertising
Things to mention in your marketing efforts
Store hours
Which products are available with pricing
"While supplies last"
Special hours for seniors
Sample Social Media Posts
Attention [your neighborhood name], we've converted our restaurant into a neighborhood corner store! Stop by for restaurant-quality [insert a product], [insert another product], [insert an even more awesome product], and so much more! Our staff has been trained to follow all safety practices and social distancing. Visit our website or call today for the complete product list. [Insert days and hours of operation].
Let us help with your grocery list! We are now able to offer restaurant-quality ingredients for you to enjoy at home. Stop by our store [insert days and hours of operation] or give us a call to arrange curbside pick-up.
Not ready to open up your restaurant doors just yet? Offer curbside pick-up or delivery.